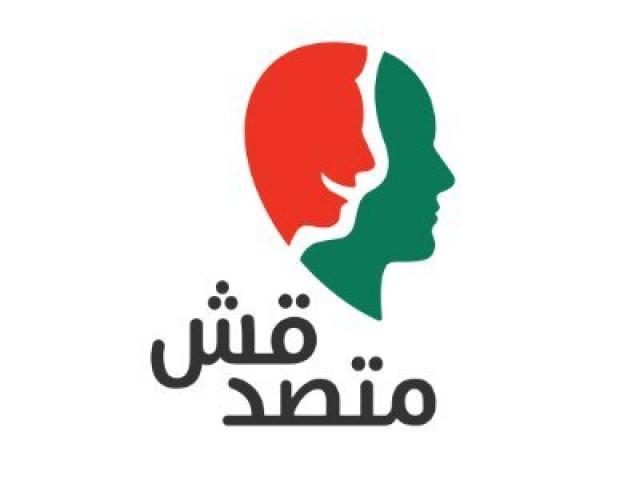 In Solidarity with Egyptian Fact-Checking and Independent Media Platform Matsadaash
Press Release
23 August 2023
We, the undersigned civil society organizations, independent media outlets, and individuals, join together to stand in solidarity with Egyptian fact-checking and independent media platform Matsadaash, following its recent targeting by Egyptian security services.
On August 19, 2023 at 1:00 am, Egyptian security forces raided the home of Matsadaash journalist Karim Asaad in al-Shorouk, Cairo, and arrested him. During the raid, forces assaulted Asaad and his wife, threatening to harm their two and a half year old son; logged into the Matsadaash platform and deleted two Facebook posts; and seized all phones and computers from the home, in addition to pieces of jewelry and 8,000 EGP. Following the raid, Asaad was taken into custody and forcibly disappeared, during which he was denied access to his attorneys at the Egyptian Initiative for Personal Rights. On the evening of August 20 at 10:00 pm, Asaad was released.
This incident took place following heightened targeting of the Matsadaash team around their coverage of a story involving a private plane that had been seized in Zambia, had originated in Egypt, and had 5.7 million USD in cash and 127 kilograms of gold-plated metal bars on board. Since the story broke, Matsadaash put a number of posts fact-checking and verifying the identity of the Egyptian nationals arrested alongside the plane's seizure; those arrested include gold merchants, defense contractors, and former and current Egyptian security officials. The two posts deleted by Egyptian security officials who gained access to the Matsadaash's Facebook page during the raid on Asaad's home detailed the identities of two of the six Egyptians detained in Zambia, one of whom was allegedly a former police officer and the other of whom was allegedly a former military officer.  Over the last few months, Matsadaash has been the target of a vicious smear campaign and lawsuits directed at the platform and its staff.
In 2018, Matsadaash was founded by the late Egyptian journalist Mohamed Aboelgheit while he resided abroad in London. The platform is made up of a group of Egyptian journalists committed to combating "the cascade of false or misleading news"; to fact checking statements made by government officials, media professionals, and public figures; and to producing in-depth reporting and open-source investigations. Asaad is one of the platform's journalists, is a graduate of the Faculty of Mass Communication, and has been practicing as a journalist for the last ten years.
We are grateful that Karim Asaad has since been released and we recognize the efforts of those involved in his timely release. However, we, the undersigned, take this opportunity to call on Egyptian authorities to bring to an end any harassment, prosecution, or targeting of Matsadaash and its team of journalists; to stop its targeting of independent media outlets and fact-checking platforms at large; and to promptly release all journalists who remain in custody.
Independent journalism, open-source investigative work, and fact-checking are critical in any free society and Egyptian authorities' failure to allow free exercises of expression to thrive without restriction flies in the face of a purported commitment to dialogue and respect for human rights.
Signatories
Civil Society Organizations and Independent Media Outlets
Access Now
Alternative Press Syndicate – Lebanon
Andalus Institute for Tolerance and Anti-Violence Studies
Cairo Institute for Human Rights Studies (CIHRS)
Center for International Policy
CIVICUS
Daraj
Egyptian Commission for Rights and Freedoms
Egyptian Front for Human Rights
Egyptian Human Rights Forum (EHRF)
Egyptian Initiative for Personal Rights (EIPR)
EgyptWide for Human Rights
El Nadeem Center against Violence and Torture
Freedom House
Human Rights First
INSM for Digital Rights
International Fact-Checking Network
Intersection Association for Rights and Freedoms
Law and Democracy Support Foundation
MENA Rights Group
PEN America
Project on Middle East Democracy (POMED)
Raseef22
Red Line for Gulf
Refugees Platform In Egypt (RPE)
Reporters Without Borders (RSF)
Robert F Kennedy Human Rights
Samir Kassir Foundation
Sinai Foundation for Human Rights (SFHR)
SMEX
Start Point
Syrian Center for Legal Studies and Research
The Committee to Protect Journalists (CPJ)
The Freedom Initiative
The Syrian Center for Media and Freedom of Expression (SCM)
The Tahrir Institute for Middle East Policy (TIMEP)
Virtual Activism
WHRDMENA Coalition
Women for Justice Foundation
Individuals
Abdelrahman Ayyash, Yale University
Abdelrahman ElGendy, Egyptian Writer
Abdelrahman Fares
Ahmad Abdelfattah, Human Rights Defender
Ahmed Abdelhalim
Ahmed Salem, Executive Director of Sinai Foundation for Human Rights
Ahmed Samih
Aida Seif El Dawla, Cofounder of El Nadim Center, Egypt
Alaa Azzam, Egyptian Journalist
Alia Ibrahim, Daraj
Anwar Al Bunni
Christin El-kholy
Aymen Zaghdoudi, Media Law Assistant Professor, Tunisia
Badr Elbendary, Freedom of Expression Assistance at Vial Voices
Bahey Eldin Hassan, Director of Cairo Institute for Human Rights Studies (CIHRS)
Basma Mostafa, Investigative Journalist
Courtney C. Radsch, UCLA Institute for Technology, Law and Policy
Elisa Massimino, Human Rights Institute, Georgetown University Law Center
Elsy Moufarrej, Coordinator of the Alternative Press Syndicate
Emad Mubarak Hassan
Esraa Fehead, Human Rights Defender
Faisal Adel
Hajar Raissouni, Journalist
Halem Henish
Hanan Badr, Professor
Heba Ghannam, American University in DC
Hossam el-Hamalawy, Journalist
Ibrahim Ezzeldin, Urban Researcher and Human Rights Advocate
Ibrahim Heggi, Researcher
Iman Gad, Human Rights Defender
Jonathan Dagher, Head of Middle East Desk at Reporters Without Borders
Kawther Alkholy, Women for Justice Foundation
Magda Adly, Physician
Mahienour El-Massry, Lawyer
Mai El-Sadany, Human Rights Lawyer
Marlyn Tadros, Professor
Marwa Fatafta, Access Now
Miray Philips, Assistant Professor, University of Toronto
Mohamed Lotfy, Egyptian Commission for Rights and Freedoms
Mohamed Mokhtar, Human Rights Defender
Mohammad El Taher, Researcher and Technologist
Mona Hamed Imam, Psychiatrist
Mostafa Al-a'sar, Egyptian Journalist and Researcher
Nancy Okail, President and CEO, Center for International Policy, Washington DC
Nour Khalil
Nourhan Fahmy, Egyptian Human Rights Lawyer and Researcher
Nourhanne Charaf Eddine
Obai Kurd Ali, Accountability Manager for The Tahrir Institute for Middle East Policy
Omar Taleb, Lebanese Lawyer
Ramy Shaath
Ramy Yaacoub
Ruth Michaelson, Reporter
Samar Elhussieny, Human Rights Defender
Sara Mohamed, Human Rights Researcher and Advocate
Sayed Nasr, Human Rights Defender
Shimaa Samy, Journalist and Researcher
Shorouk Amgad, Human Rights Defender
Sofian Philip Naceur, Journalist
Solafa Magdy, Journalist
Suzan Fayyad, Psychiatrist, El Nadim Center