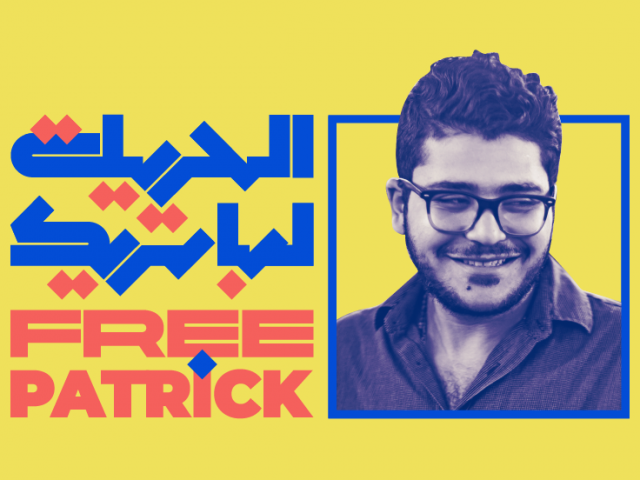 Civil Society Organizations Condemn Sentencing of Egyptian Academic and Researcher Patrick George Zaki
Press Release
19 July 2023
We, the undersigned civil society organizations, condemn the three-year prison sentence handed down to human rights researcher at the Egyptian Initiative for Personal Rights (EIPR) and academic Patrick George Zaki for his writings highlighting the hardship and discrimination faced by Coptic Christians in Egypt, such as himself. 
On July 18, 2023, following a trial rife with due process violations, an Egyptian emergency state security court handed down a three-year prison sentence to Patrick on trumped up charges of spreading false news. Patrick, who was a graduate student at the University of Bologna at the time, was arrested by Egyptian authorities on February 7, 2020, while at the Cairo Airport during a visit home to see his family. In custody, he was held incommunicado for a 24-hour period; he was beaten, stripped, electrocuted, verbally abused, and threatened. He was initially accused of joining a terrorist organization and spreading false news. In September 2021, lawyers learned that he had been referred to emergency state security court on false news charges for a 2019 article that he authored for independent digital media outlet Daraj on his experience as a Coptic Christian religious minority, titled, "Displacement, Killing & Harassment: A Week in the Diaries of Egypt's Copts." On December 7, 2021, following 22 months behind bars, he was ordered released from detention pending trial, and placed on travel ban. His trial continued until the July 2023 verdict, following which he was taken back into custody today. 
Verdicts handed down by an emergency court are not subject to legal appeal, only to ratification by the President. The President also has the authority to commute the sentence or to quash the verdict. Furthermore, under Circular No. 10 of 2017 governing emergency state security courts, "If the accused is brought to trial while not in custody and sentenced to a prison penalty, he must be released immediately without executing the penalty pending the decision of the ratifying authority." Per this provision, Patrick must legally be free while the President considers ratification; for Egyptian authorities to have taken him into custody constitutes a clear violation of this circular.
The targeting, arrest, prosecution, and sentencing of Patrick Zaki for writing about his experiences as a Coptic Christian is an egregious measure by Egyptian authorities that is indicative of a larger failure by the state to protect religious minorities. Instead, the authorities target Copts for merely expressing themselves and bringing attention to the discrimination they regularly endure. This sentence occurs in violation of Egypt's domestic laws and international legal commitments, and sends a clear message that the Egyptian government is not serious about implementing its national human rights strategy or carrying out a meaningful national dialogue. At a time during which Egyptian authorities should be addressing the dire economic crisis, this step raises severe questions on the trajectory of the country. 
We, the undersigned civil society organizations, call on Egyptian President Abdel Fattah El-Sisi not to ratify the verdict handed down to Patrick Zaki and instead to quash it in its entirety. We call on Egyptian authorities to immediately release Patrick Zaki from custody, to drop all charges and close all cases brought against him in their entirety, and to lift the travel ban brought against him. We urge all of Egypt's international, multilateral, and government partners to press the Egyptian government to immediately release Patrick and cease persecuting him for his legally protected speech and vital human rights work.
Signatories
Access Now

Alternative Press Syndicate

Amnesty International

Arab Reform Initiative

Cairo Institute for Human Rights Studies (CIHRS)

Campaign Against Arms Trade

Center for International Policy

CNCD-11.11.11

Committee for Justice

Daraj

Democracy in the Arab World Now (DAWN)

DIGNITY Danish Institute Against Torture

Egyptian Commission for Rights and Freedoms

Egyptian Front for Human Rights (EFHR)

Egyptian Human Rights Forum (EHRF)

Egyptian Initiative for Personal Rights (EIPR)

EgyptWide for Human Rights

El Nadim Center

FIDH (International Federation for Human Rights), within the framework of the Observatory for the Protection of Human Rights Defenders

Human Rights First

Human Rights Watch

HuMENA for Human Rights and Civic Engagement

INSM for Digital Rights

International Service for Human Rights (ISHR)

Kawaakibi Foundation

Lebanese Center for Human Rights - CLDH

MENA Rights Group

PEN America

PEN International

Project on Middle East Democracy (POMED)

Refugees Platform in Egypt (RPE)

Scholars at Risk

Shadow World Investigations

Sinai Foundation for Human Rights (SFHR)

SMEX

Start Point

Taafi initiative

The Freedom Initiative 

The Legal Agenda

The Syria Campaign

The Tahrir Institute for Middle East Policy (TIMEP)

World Liberty Congress

World Organisation Against Torture (OMCT), within the framework of the Observatory for the Protection of Human Rights Defenders