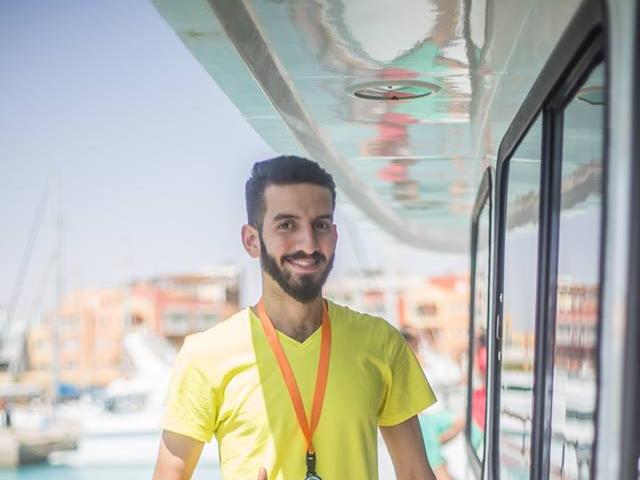 Renewal of Moaz Al Sharqawi's detention for 15 days, and the Egyptian Initiative requests a visit in prison and access to the investigations
Press Release
18 June 2023
The Egyptian Initiative for Personal Rights submitted on the 14th of June  a request to access the investigation files and another request to authorise a visit to student leader Moaz Al Sharqawi, who is detained pending case 540 of 2023. The two requests were submitted after his detention renewal session yesterday, which took place remotely via digital means and was overseen by the Supreme State Security Prosecution.
During his detention renewal session, Moaz said that he has been in solitary confinement since his arrival in prison on June 3. The defense lawyers argued that the decision of the Minister of Justice No. 8901 of 2021, which allows the renewal of detention remotely and using digital means, is unconstitutional, because it prevents the detainee from convening with his lawyer. Also, it does not rely on any legal document. During the investigation, the lawyers insisted that there was no evidence to support the accusations brought by the Public Prosecution against Moaz, but the Public Prosecutor decided to renew the detention for a new 15 days of remand. The lawyers requested access to the investigation files so that they could defend their client. The Egyptian Initiative's lawyers also requested that Moaz be examined by the Forensic Authority to determine the extent of the beatings during the first days of his detention by the NSI (State Security) officials.
Moaz AL Sharqawi was arrested on May 11 from his home in Mokattam, then taken to an unknown destination. Despite his family and lawyer submitting one petition after another to the Public Prosecutor about his disappearance,  requesting disclosure of his place of detention and basis for his arrest; they did not receive any response. Al Sharqawi appeared on June 3 before the Supreme State Security Prosecution in New Cairo for the first time after more than three weeks, during which he revealed that he had been subjected to violations, including torture, enforced disappearance, and the denial of communication with his family or lawyer. The Prosecution charged him with joining a terrorist group and committing the crime of financing terrorism, and he was transferred to Badr Prison 3.
In a request for access submitted by the defense team; the defense indicated that Moaz Nagah Mansour Mansour Al Sharqawi was interrogated without enabling his lawyer, who was present at the Public Prosecution office, to attend the questioning session since its beginning, which took place after 23 days of enforced disappearance. The request indicated that the State Security Prosecution decided twice in a row to detain Moaz in pretrial detention without his lawyers being able to know the charges or the evidence that justifies his pretrial detention, and without allowing lawyers to appeal against the decision of detention or its extension.
According to Article 125 of the Code of Criminal Procedure, legal defence must be allowed to access the investigation files the day before prosecution questioning or charging of the defendant. Also, Article 52 of the Bar Act states that "a lawyer has the right to access lawsuits and judicial papers and to obtain data related to the lawsuits he is party to." Consequently, the defense team demanded from the Attorney General of the Supreme State Security Prosecution to grant them their right to access the investigations, especially since the aforementioned article of the Bar Act stipulates that "All courts, prosecution offices, police departments, civil registry commissions, notarial commissions, and other bodies before which a lawyer practices his profession must provide him with the facilities required to carry out his duties and enable him to view files, obtain data, and attend the investigation with his client following the provisions of the law. It is not permissible to reject his requests without legal justification, and everything that takes place in the session must be recorded in its minutes."
The Head of the Legal Unit at the Egyptian Initiative, Hoda Nasrallah, submitted a request to visit Moaz as his legal representative based on the provisions of Article 39 of the Prisons Law, which stipulates that "a prisoner's lawyer is authorized to meet him in private, provided written permission is obtained from the Public Prosecution and the investigating judge (in cases where an investigative judge is assigned), whether the meeting is requested by the prisoner or the lawyer." Also, Article 52 of the Bar Act states that "a lawyer authorised by the Public Prosecution to visit a prisoner in any of the general prisons has the right to visit him at any time and to meet with him in private and in a designated place inside the prison."