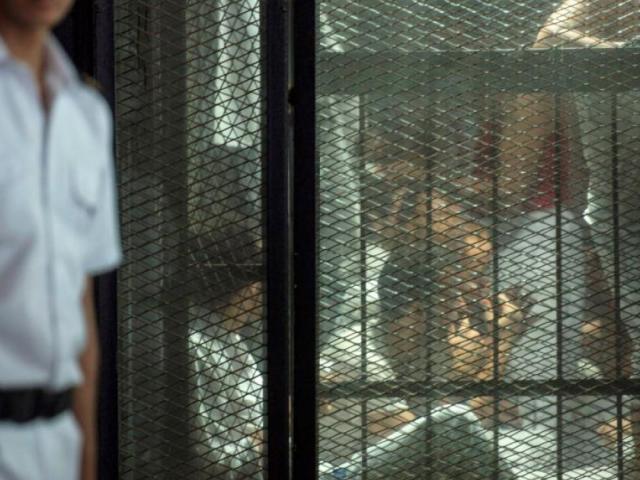 After three trials that ended with his acquittal: Samer El-Desouki was "rotated" for the fourth time on the same charge before the State Security Prosecution
Press Release
17 January 2023
EIPR calls on the Attorney General, Counselor Hamada El-Sawy, to intervene to stop the repeated miscarriage of justice and to order the release of political prisoner Samer Ahmed El-Desouki Hassan El-Khouly, after he obtained acquittals in three consecutive trials on the same charges in less than a year without being released.
Samer El-Desouki is 32 years old. He works as a financial manager for a company in the Damietta Sea Port Authority.  A National Security officer arrested Samer last year on May 8, 2022 in the city of New Damietta. He disappeared for more than a month before he was brought before the Damietta Prosecution, which referred him to the New Damietta Court in Case No. 4852 of 2022 on charges including joining a takfiri group and possessing anti-constitutional publications. On July 24, the Terrorism Department of the Misdemeanor Court of Appeal in Damietta acquitted Samer of all charges.
Instead of releasing Samer according to the acquittal, he was subjected to enforced disappearance again for more than a month, then was brought before the same prosecution, which referred him to trial for the second time on the same charges and based on the same National Security investigations.  On October 5, the New Damietta Misdemeanor Court again acquitted Samer in Case No. 6876 of 2022.
Samer El-Desouki remained detained despite his second acquittal, and after three weeks of enforced disappearance, the Public Prosecution office referred him to a third trial on the same charges in Case 8400 of 2022.  On December 7, the New Damietta Misdemeanor Court acquitted him for the third time.
For the third time, the authorities ignored the acquittal verdict, and Samer was transferred this time to Cairo, where he appeared weeks later before the Supreme State Security Prosecution in a new case No. 1633 of 2022 with the same charges as usual. The prosecution decided to renew his detention yesterday, corresponding to January 15, 2023, for a period of 15 days, which he is currently serving in Badr 1 prison.
The Egyptian Initiative for Personal Rights said that Samer El-Desouki's file presents an exemplary case of the National Security's disregard for judicial rulings and the Public Prosecution's failure - rather, its active participation - in wasting the law by "rotating" a defendant in four consecutive cases with the same charges in less than 7 months.