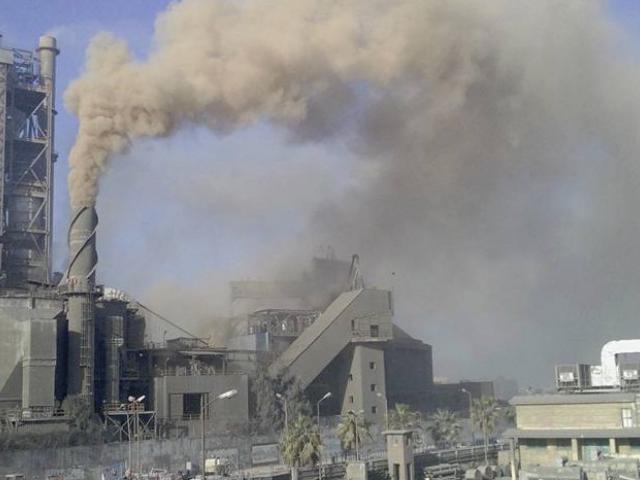 Committee of Experts concludes its sessions in preparation for a technical report in the case of the coal unit at Titan Cement Factory
Press Release
11 October 2022
Today, Tuesday, the tripartite committee of experts formed of faculty members at Alexandria University concluded its sessions. The purpose of the sessions was to determine the impact of Titan's use of coal as an alternative fuel to natural gas on the residents of the area surrounding the plant, the impact of these emissions, and whether or not they constitute an imminent threat to public health.
To this end, the committee inspected the company, and measured the concentrations of particles and dust resulting from production processes. This was attended by lawyers from EIPR, lawyers of Titan Cement Company, and a representative of the Environmental Affairs Agency, Alexandria Branch. After the sessions are over, the committee is preparing to write a technical report on what it will conclude to be submitted to the Administrative Court in Alexandria, to enable it to decide on the case.
It is noteworthy that all the new environmental requirements related to the use of coal as an alternative fuel to natural gas stipulate that "it is prohibited to burn coal for industrial purposes and to generate energy of all kinds in any residential community; it is permissible for reasons of necessity and public interest to exclude existing facilities before the provisions of this decision come into effect, based on the approval of the Council of Ministers of a study of the environmental impact assessment based on a proposal from the Minister of Environment".
In this case, EIPR challenges the environmental approval issued by Titan to use coal as an alternative fuel to natural gas near the residential area of ​​Wadi Al-Qamar (within 10 meters from the coal unit of the factory), which led to health hazards to most of the residents of the Wadi Al-Qamar area.
It is also worth noting that these requirements, according to their latest amendments in 2017, stipulate that the Environmental Affairs Agency has the right to cancel the permit to use coal permanently, or temporarily, if the facility does not comply with the requirements contained in the executive regulations and the environmental approval report.
Although an environmental violation was proven and a criminal case was filed under No. 6645 of 2016 Dekheila misdemeanor, in which a final judgment was issued against the company's chairman, the Environmental Affairs Agency is still renewing the environmental permit issued to the company in complete disregard of the citizens' right to a healthy and sound environment, a right that is protected by Article 46 of the Constitution.
For more information on the subject
Final ruling: The Court of Cassation upholds the conviction of "Titan Cement" for causing environmental pollution and harming complainants of Wadi al-Qamar residents
The popular movement in Wadi Al-Qamar in Alexandria for environmental justice, monitoring the resistance of the people of Wadi Al-Qamar against the environmental pollution caused by the Titan Cement Factory
Conviction of the Titan Cement Factory in Wadi Al-Qamar for causing environmental and health damage
EIPR dialogue session on environmental litigation issues recommendations to support the role of litigation in protecting the environment and population
Video: Residents of Wadi Al-Qamar monitor the emissions of the Alexandria Portland-Titan Cement Factory