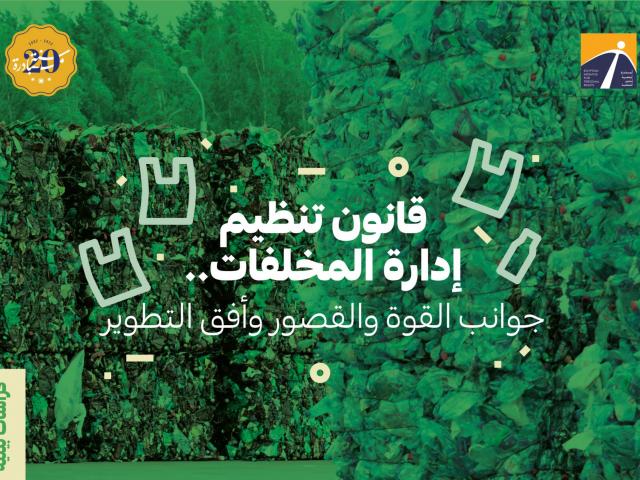 "Waste Management Regulation Law - Strengths, Shortcomings and Development Prospects" A research paper on the law and its executive regulations issued by EIPR
Press Release
31 May 2022
On the occasion of the issuance of the executive regulations for the law regulating waste management, the Egyptian Initiative for Personal Rights (EIPR) published a research paper entitled "Waste management Regulation Law: strengths, shortcomings, and prospects for development." The law was issued in October 2020 and its executive regulation was issued in March 2022. The research welcomed the issuance of the law and its executive regulation, considering that the absence of a good legal and legislative framework was one of the most important obstacles to facing the problem of solid waste in Egypt.
The paper reviewed the dimensions of the waste problem in Egypt and the difficulties that impede its solution. It also clarified the most important advantages and positive aspects of the law and its regulation, and considered it an important step on the way to a solution, as it laid the principles of integrated waste management, addressed the issue of sustainability and supported institutional and organizational building. For example, the law established a specialized agency to regulate waste management and made it responsible for strategic planning, supervision and co-ordination . It also stipulates the establishment of a national data system, building competent administrative structures, defining their responsibilities and providing the required financial and other resources needed, ensuring the inclusion of the private and informal sector in the system, addressing the problem of safe landfills and regulating plastic waste.
The paper also clarified that despite these positive aspects, there are still some aspects that need more effort in order to accomplish the required task, especially since the law and the regulation referred many details to ministerial decisions, and thus the path of effective implementation became subject to those decisions. Finally, the paper presents some recommendations regarding the steps to be taken in the coming period. The paper also includes a summary of the most important articles and provisions of the law and its executive regulation.