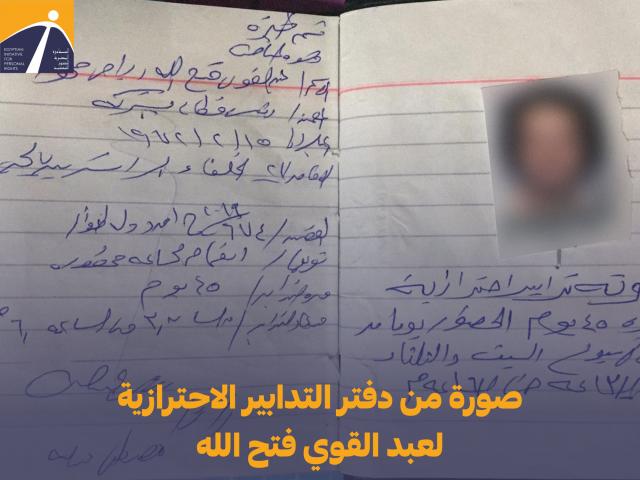 Release of Abdul Qawi Fathallah Riyad more than two months after the decision was issued
Press Release
15 March 2022
At exactly 1 a.m. on Tuesday, March 8, 2022, the decision to release Abdel Qawi Fathallah from the Giza Police Department was implemented. The Cairo Criminal Court had issued this decision to release him with precautionary measures on January 10, 2022.
The EIPR lawyer stated that there are frequent complaints about delays in implementing release decisions issued by courts and prosecutions in general, especially in cases of a political nature, due to "waiting for the national security approval to implement release decisions," which are usually delayed for several days.
On the other hand, procedures for executing release decisions begin with the competent prosecution sending the release decision by fax to the authorities entrusted with implementing the decision. There are two bodies to which all prisons at the level of the Republic are affiliated. The first is the Prisons Authority, responsible for public prisons and penitentiaries; the second is the security directorates, to which central prisons are affiliated. In the event that the accused is in a prison affiliated with the Prisons Authority, the decision to release him arrives at the prison on the same day as the prison authority. In the event that the prisoner is in a central prison or police station, there is usually a delay in sending it from the Security Directorate to the corresponding central prison or police station. Consequently, the implementation of the release decision is greatly delayed.
As a result, the defendant is detained without legal justification due to non-enforcement of the provision of Article 421 of the Public Prosecution's instructions. This article stipulates that prosecutors must personally supervise the implementation of the release orders of the defendants, and order the clerks entrusted therewith to follow up the release orders that are sent to police departments, stations and prisons, which must be made out of an original and a copy kept in the case file.