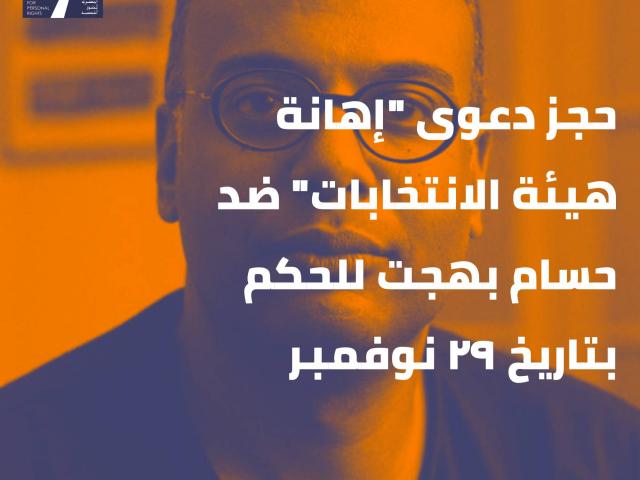 Verdict in Hossam Bahgat's trial to be pronounced 29 November
Press Release
2 November 2021
Today, the Third Circuit for Misdemeanors of the Cairo Economic Court heard defense arguments in the case against Hossam Bahgat, Executive Director of the Egyptian Initiative for Personal Rights, on charges of "insulting the Elections Authority," before deciding to adjourn the case for the pronouncement of the verdict on November 29.
Bahgat faces, in Case No. 1592 of 2021, three charges: insulting a statutory body, spreading false news with malicious intent, and using an account on social media to commit the two crimes. The three charges carry a penalty of up to three years in prison and/or a fine of up to 300,000 Egyptian pounds.
Bahgat's legal team presented a number of defenses to the court, including the absence of the elements of the crime of spreading false news, the absence of criminal intent, the absence of the offense of "insult", and the non-application of the definition of a statutory body to the National Elections Authority. Bahgat's lawyers also argued that Articles 184 and 188 of the Penal Code are unconstitutional, as they violate the provisions of the Constitution regarding freedom of expression and the impermissibility of imprisonment for publishing offenses; as well as Article 27 of the Information Technology Crimes Law.
The trial relates exclusively to a tweet that Bahgat had posted on his Twitter account last year, in which he criticized the performance of the former head of the National Elections Authority, the late Counselor Lashin Ibrahim, and his management of the electoral process for the House of Representatives in 2020.