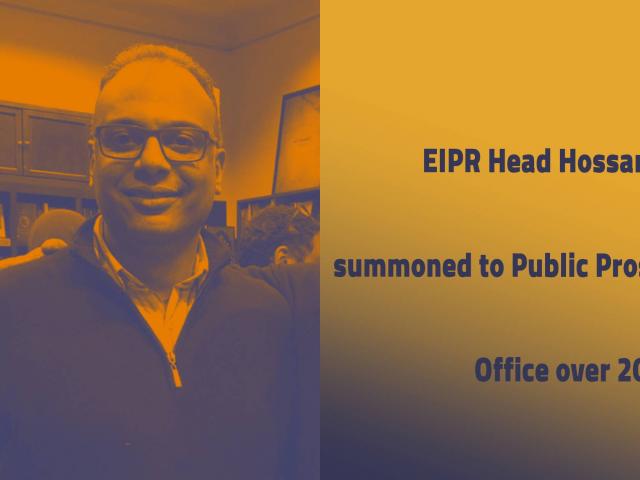 EIPR Head Hossam Bahgat summoned to Public Prosecutor's Office over 2020 tweet
Press Release
13 June 2021
Update: Summons of @EIPR executive director Hossam Bahgat to the Public Prosecutor's Office has now been moved up to Wednesday 16 June
Hossam Bahgat, Executive Director of the Egyptian Initiative for Personal Rights (EIPR), has been summoned to the Public Prosecutor's Office for a new criminal investigation. The new case (no. 35/2020) is based on a complaint filed by the National Election Commission's acting president over a tweet Bahgat had written last year. 
In the tweet, Bahgat criticized the conduct of the deceased former president of the NEC and held him responsible for the widespread violations that marred last year's parliamentary elections.  
EIPR lawyers learned that the complaint was filed on 29 December 2020, immediately after Bahgat's tweet, but that the investigation was only opened last month.  
The investigation is scheduled to take place on Thursday, 17 June, at the Public Prosecutor's Office in Al-Rehab city.  
Bahgat's defense team intends to submit official documents and other evidence relating to the conduct and outcome of last year's elections, including relevant court appeals and verdicts. They will also demand the testimonies of a number of witnesses with direct involvement or knowledge of specific incidents before, during and after the elections.  
This is the third criminal case to be opened against Bahgat as a result of his human rights activism or investigative journalism. He was previously charged with a military misdemeanor  (case no. 14477/2016) over an investigation he published about a military prosecution, in addition to being a defendant in case no. 173/2011 on "foreign funding", because of the work and activities of EIPR. Both cases remain open to date. Bahgat has been under a travel ban for the last five years, as well as a freeze on all his assets "pending investigations".