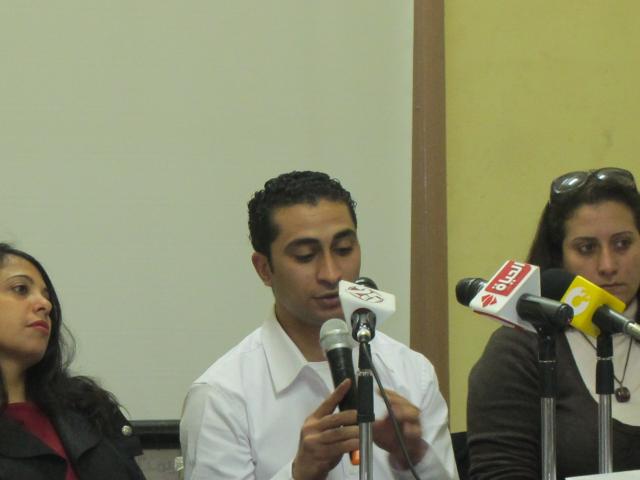 Five Rights Organisations Demand an Immediate End to the Use of Firearms in Dispersing Demonstrations
Press Release
26 February 2012
Five human rights organisations today held a press conference calling for a ban on the use of firearms in dispersing demonstrations. The conference came two days before the second court hearing of the case requiring an abolition of the use of firearms in dispersing demonstrators, which will be held on Tuesday 28 February before the First Circuit of the Cairo Administrative Court.
The case (number 9544 of judicial year 66) was brought by activist Malek Mostafa – who lost the use of his right eye to a rubber bullet injury on 19 November 2011 – along with the activist Fatma el-Abed and with the cooperation of the five rights organisations (the Egyptian Centre for Economic and Social Rights, Nadim Centre for the Rehabilitation of Victims of Violence and Torture, Egyptian Initiative for Personal Rights, Association for Freedom of Thought and Expression, and Arab Network for Human Rights Information).
The case requests the suspension and repeal of ministerial decree no. 156 of 1964, which permits the use of firearms and live ammunition to disperse demonstrations and sit-ins. It also challenges the refusal by either the head of the Supreme Council of the Armed Forces, the Prime Minister, or the Interior Minister, to issue a decree limiting security engagement with peaceful protests to water hoses, and prohibiting the dispersal of demonstrations and sit-ins with live ammunition, rubber bullets, birdshot pellets, tear gas bombs, or any other weapons which endanger the lives of Egyptians.
Since the beginning of the January revolution, more than 1,000 have been killed and thousands of others wounded at the hands of security forces due to the excessive and unlawful use of firearms and tear gas, said the aforementioned organisations. During the revolution, and in all events which followed, the organisations documented a repeated pattern of using weapons against unarmed demonstrators with the intent to kill or cause serious injury or permanent disability.
The organisations confirmed that security forces fired on demonstrators' heads and chests with live ammunition, killing more than 1,000 in one year. They also fired shotgun pellets in the upper half of the body and at close range, causing death and serious injury, and targeted demonstrators' eyes with rubber bullets and birdshot, with the intent to cause permanent disability, leading to tens losing their sight. Rights organisations also documented the excessive use and misuse of tear gas, including by firing tear gas in confined spaces and targeting demonstrators' bodies with tear gas canisters, increasing the number of dead and injured.
The five organisations underlined the need to amend the legislative framework surrounding security forces' use of weapons, including an absolute ban on using weapons against peaceful demonstrators, stringent conditions for using weapons when arresting suspects, and stronger protection of freedom of opinion and expression. They also confirmed that they would continue to support the families of the martyrs and injured until they achieve justice and all perpetrators are brought to trial.